Staff
Our dedicated team is here to provide support, compassion, and information to help you through your journey of grief and the celebration of your loved one's life.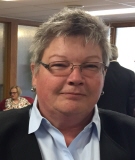 Reneé M. Evert CFSP
Owner/Funeral Director
Reneé M. Evert CFSP, owner and sole funeral director at Evert-Luko Funeral Home, has served hundreds of families during her 30 plus years as a funeral director.

Reneé is a highly self-motivated person with a driven desire to learn, grow and achieve. The CFSP designation next to her name (Certified Funeral Service Practitioner) is the highest professional designation you can achieve in funeral service.

She takes pride in personally assisting each family. She is on call 24 hours a day, seven days a week. Her unique personality allows her to assist families in planning a celebration as special as their loved one.